GO FOR BOLD BOOTS - SHARE YOUR PERSONALITY
That's not to say that you should abandon the classic style, but it's refreshing to see a lot of new and unique designs make their way into the market. It's giving us an opportunity to share our personality through our style. That's why I think bold boots are totally worth it.
WHAT MAKES A BOOT BOLD? - MODIFYING TRADITIONAL BOOT ELEMENTS
Such a loaded question.
It's all about taking foundational, classic boot elements and tweaking them. Change the color, add a print, or even modify the sole. It's limitless and all about an unexpected twist. The more elements get changed and tweaked, the bolder we go.
Don't get me wrong, though, I'm still a practical guy. My ideal kind of bold boot doesn't mean going completely unwearable.
QUICK TIP: MAKE SURE YOU CAN STYLE AN OUTFIT WITH YOUR BOLD BOOTS BEFORE YOU PURCHASE.
It's important to look for styles of boots that you're actually going to wear. And I mean really wear, like not just once to a single event.
We don't totally have to lose versatility and utility just because we're pushing the envelope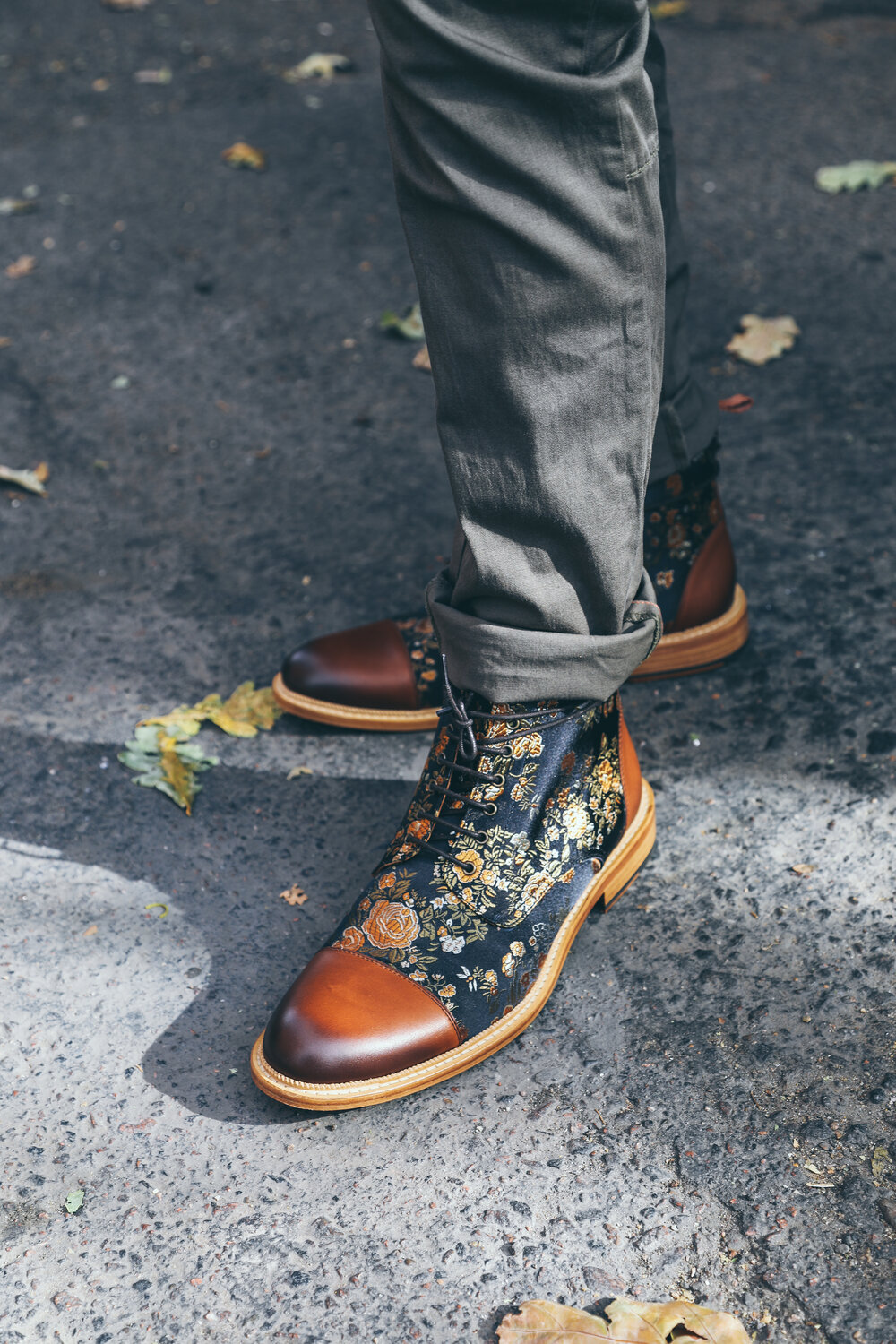 BOLD BOOT STYLING
NEWIIO sent me this pair of Jack Boots in Eden. Let me tell you, there's no shortage of bold boot style here. We've got a traditional boot construction and silhouette with a navy color (bold), contrasting toe and heel (bolder), and reflective gold florals (boldest).
We've hit maximum bold boot style capacity!
WEARABLE BOLD DETAILS
Taft knows their way around a bold boot. They take those classic styles and really punch up the design elements to make them something you've never seen before.
And yet, the classic elements they leave in their boots (timeless construction, soles, quality, etc.) makes them work in more ways than one. It's that sort of twist on classics that inspired my styling with this whole outfit.
YOUR BOLD BOOT STYLING OPTIONS:
1. TURN UP THE ENERGY OF YOUR OUTFIT TO MATCH THE STATEMENT YOUR BOOTS ARE MAKING.
2. TONE DOWN EVERYTHING AND LET THE BOOTS PUNCTUATE YOUR WHOLE LOOK.
Either way you're not doing it wrong.
I danced between 1 and 2 with this outfit. So I guess that's kind of a third way to do it.
I can't even follow my own rules! I couldn't resist letting these boots stand out.
QUICK TIP: PICK COLORS FROM YOUR BOLD BOOTS FOR YOUR OTHER PIECES.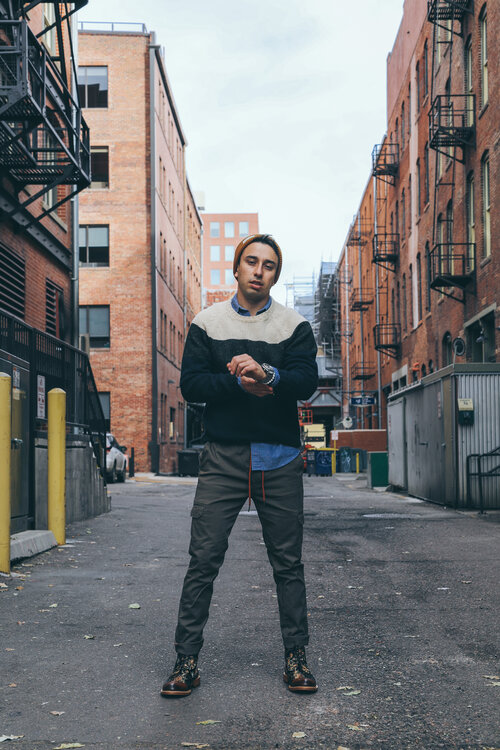 I chose tones from the boots to play into the rest of the outfit to help connect it all. I took the modern twist on casual styling further with this look by selecting traditional pieces but combining and wearing them in a non-traditional way. It's the slouchy beanie, half-tucked shirt, cargo pants, and baggy nature of the outfit that does it.
In doing so, these boots now add a refined and visually entertaining touch to a tougher street outfit with traditional elements.
THE SKY'S THE LIMIT
If you're going bold, you can really go bold everywhere else in your outfit too. I purposefully didn't provide in depth styling tips for these because your definition of bold is totally up to you. I'd love to see what you do with it on your own!
The best part about doing something bold is that you can really throw the guidelines out the window and do whatever you want.
TONE IT DOWN
If that kind of full force modern styling isn't for you, then just throw them on with a pair of denim and a shirt. Your bold boots are going to work just like any other regular pair too.
They'll do the talking for themselves.. And the walking for you. Truly full service here.
CONFIDENCE IS KEY TO BOLD BOOT STYLING
The hardest part about styling, or even just purchasing a pair of bold boots, is having the confidence to wear them.
If your first thought was "I can't wear something like that," I feel you, but you totally can. If your second thought was "what will people say?" then you're giving too much credit to others' opinions and not enough to your own.
QUICK TIP: YOUR BOOT STYLE (AND OVERALL STYLE) ARE UP TO YOU!
All you have to do is take the first step - in a really good pair of boots this winter.
If there's one true piece of advice I can give you it's to experiment with your style until you find what you like and feel good in without binding yourself to what you might get some judgement.
So try the dang boots!
A bold boot is one of my essential boot styles because everyone could use that wow factor.
When you've got something traditional and something rugged in your closet, your next step is getting something that's guaranteed to turn heads, even - dare I say - break necks!
MORE THAN ONE WAY TO DO BOLD BOOT STYLE RIGHT
That's right, you get to choose how to do it and what you consider to be bold. There are no defining characteristics or colors, because they can go any direction.
So many elements of a boot come together to make it whole, and varying any of them can make a boot stand out. Just make sure you're picking up a pair of boots that you're going to wear!